Welcome to Equestrian Bahamas
Join our community, as we support and encourage each other – learning, growing, and developing our sport through excellence! Whether you are a rider or parent, horse owner or trainer, sponsor or visitor, we hope you will find something of interest in our site.

Dear Members and Friends,
Welcome to the 2021-2022 show season! It's good to be back at the barn and back in the saddle.
Now is the time to join or renew your membership in Equestrian Bahamas.
EB membership opens vistas of opportunity, exposure and education for members at every level. Our status as a National Federation of the Fédération Équestre Internationale (FEI) and a Member Region of the US-based Interscholastic Equestrian Association affords our coaches and riders access to a wide range of educational opportunities, scholarships and technical development initiatives. Our engagement in international and local partnerships helps to make equestrian sport accessible to a broad spectrum of Bahamian youth.
We invite you to be a part of the many exciting events we have planned for this season. In particular we look forward to our first year of active partnership with the IEA, competing as Region 13 in Zone 4. Our BIEL/IEA show calendar has been enhanced and expanded and now offers interscholastic competition opportunities for riders from Grade 4 and up.
Please explore our updated website and talk to your trainer to learn more about the all the opportunities available. Remember to read our updated Covid-19 Competition Safety Guidelines and the EB Code of Ethics, both available under the Resources tab of our website. Updated Rule Books and Class Specifications and a full competition calendar are available under Horse Shows.
Membership payments may be made through your trainer (cheques should be made payable to Equestrian Bahamas). If paying online, please note the name of the EB member on whose behalf the payment is being made. Please direct any questions regarding membership payments to Mrs. Sabrina Wong at [email protected]
Thank you for your support. We look forward to a fantastic new year in equestrian sport!
Cathy Ramsingh-Pierre, President
2021-2022 season ends on a high note at the CEC show!
Mother Nature tried her best to put a damper on the last show of the season but our riders wouldn't be stopped, with super performances from all! Way to end the 2021-2022 season!
Equestrian Bahamas joins Caribbean Equestrian Association
Bahamas Equestrian officials had much to celebrate at the recent Pan-American Equestrian Confederation 20th anniversary Gala Event held in Wellington, Florida. The Pan-American Equestrian Confederation (PAEC), a member of the Pan-American Sports Organization (PASO), is comprised of the National Federations of the Americas and the Caribbean and was founded in 2001 to promote sustainable equestrian sport in the Americas. EB officials joined representatives from the FEI and fellow delegates from PAEC member nations to commemorate the organization's anniversary.
Saidi finishes in the ribbons at IEA National Finals
Ella Saidi turned in a polished performance to finish 5th at the Interscholastic Equestrian Association National Finals in Harrisburg, Pennsylvania, where over 800 leading middle and high school equestrian athletes from across the United States converged this past weekend to compete for top honours in Hunt Seat, Western and Dressage classes, championship titles and collegiate scholarships.
Equestrian Bahamas Attends First Concussion Symposium
On March 17, 2022, Mariposa Stables Junior Trainers Amber Lleida and Elle O'Brien represented Equestrian Bahamas at The Bahamas' first Concussion Symposium, hosted by the Ministry of Youth, Sports and Culture in conjunction with the Caribbean Neurosurgery Foundation.
Three cheers for Region 13 riders at IEA Zone 4 Finals!
Congratulations to Hannah Ritchie, Katarina Coello and Emma Johnston on being in the ribbons!
Super congratulations to Ella Saidi who qualified for the IEA National Finals in Harrisburg, PA!
Congratulations to riders from the CEC Blue Marlins Varsity Team, the Mariposa Gold Drops Team, all Individual riders and super coaches Erika Adderley and Kim Johnson who represented Region 13 at the IEA Zone 4 Hunt Seat Finals this past weekend at the Tryon International Equestrian Centre in North Carolina.
Wong Ranks 6th Overall in High Point Rider Standings
University of Tampa Equestrian Peyton Wong ended her competition season ranked 6th overall in the 2022 High Point Rider standings for Zone V Region 5 of the Intercollegiate Horse Shows Association (IHSA). This ranking is based on the points accumulated by all riders in every division in every show over the course of the IHSA season.
REGION 13 HEADS TO TRYON!!!!
Congratulations to the CEC Blue Marlins Varsity Team, the Mariposa Gold Drops Futures Team, and all individual qualifiers who will represent Region 13 in Tryon, North Carolina at the IEA Zone 4 Finals!

All smiles and fun at CEC March Show
EB featured on The Locker Room
Watch The Locker Room: Season 3 – Episode 5 where Equestrian Bahamas is featured!
Bahamas Interscholastic Equestrian League takes on a new look: Equestrian Bahamas and IEA forge partnership as Bahamas Joins IEA Zone 4
Equestrian Bahamas is proud to announce a partnership between the Bahamas Interscholastic Equestrian Association (BIEL) and the US-based Interscholastic Equestrian Association (IEA). As of the 2020-2021 show season, The Bahamas has been designated as Region 13 of Zone 4 of the IEA: the first international regional affiliate in that organization's history!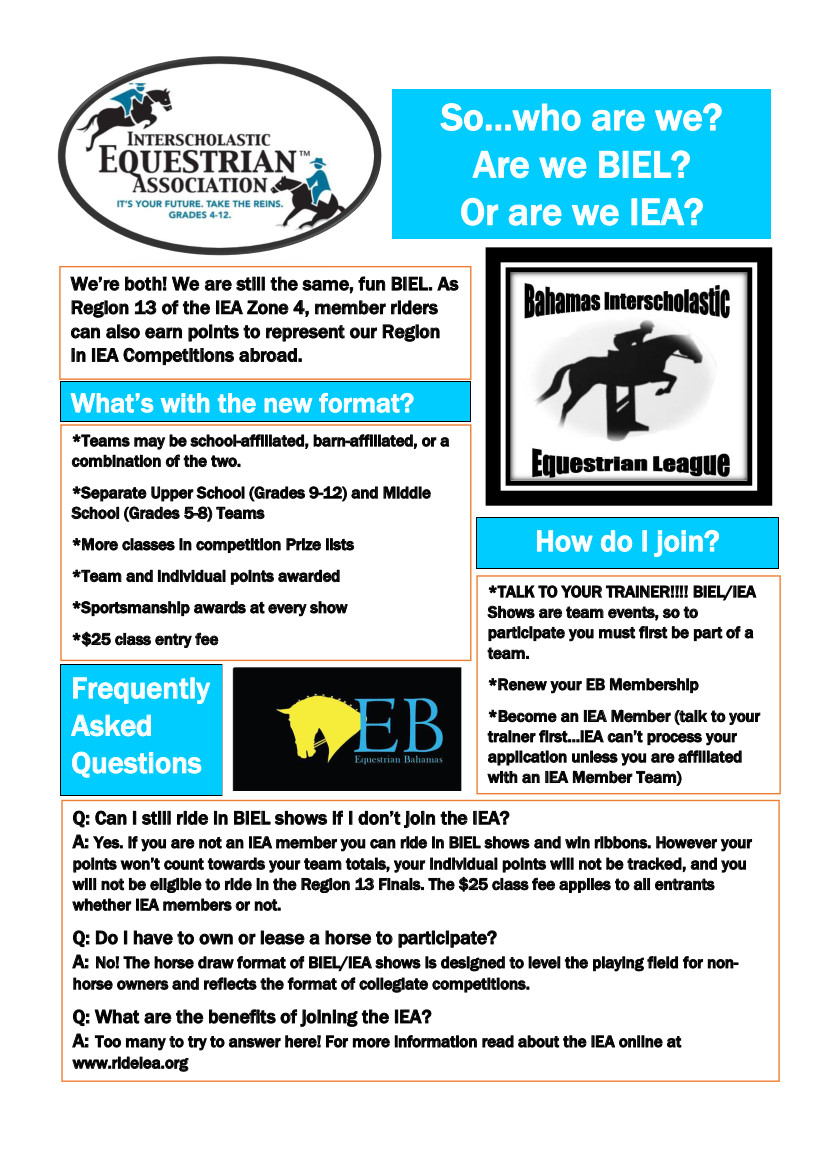 ---
Our Partners
---
About Us
EB Rider Certification
Are you ready?
• Explore the website
• Read the on-line study guide
• Find out testing dates
• Ask your trainer for more details
• more…