Welcome to Equestrian Bahamas
Join our community, as we support and encourage each other – learning, growing, and developing our sport through excellence! Whether you are a rider or parent, horse owner or trainer, sponsor or visitor, we hope you will find something of interest in our site.

Davis Triumphs in Canadian Show Jumping Classic
Bahamian show jumper Marcus Davis wrapped up an intense June campaign of training and competition in the best way possible – standing alone atop the podium, at the Angelstone Headwaters Cup Tournament in Ontario, Canada!
Vlasov and Etos HBC are Superb in France
Equestrian athlete Millie Vlasov and Etos HBC shone in illustrious company at the Laiterie de Montaigu 1.40m Grand Prix Event at Bourg-en-Bresse, France, on Sunday, May 23. Vlasov placed 5th out of a field of 52 Grand Prix riders, which included competitors from Sweden, Ireland, Great Britain, Turkey, Spain, Mexico, Switzerland, Australia and France.
Vlasov took the lead in the competition early, attacking the challenging 1.40m course designed by French course designer Gregory Bodo with style and verve. She and Etos soared clear in the first round and posted an efficient jump off time of 43.53 seconds, making her the rider to beat and prompting the French announcer to declare the pair "superb!"
Ultimately the performance was strong enough to secure 5th place in the large field, with just 4 riders, including Brice Brassart (France) and Charlotte Mcauley (Sweden) able to beat Vlasov's and Etos' fast time. Vlasov was delighted and gave all the credit to Etos, declaring: "I'm so happy! He was amazing".
The high placement at the Bourg-en-Bresse competition at 1.40m marked the pair's highest achievement to date as they progress toward their goal of representing The Bahamas in Santiago, Chile, at the next Pan Am Games.
Pagliaro and Beau continue to train in all weather, even in the freezing rain last week in Georgia!
The FEI Endurance Young Rider World Championships are rapidly approaching. As the first ever to represent The Bahamas at this event, Reine Pagliaro and her mount Beautiful Knightmare (known as Beau) are training, refining, and doing all the research necessary to represent The Bahamas to the best of their ability. The competition will be held September 6-10 in Ermelo, The Netherlands.
Vlasov Rides High in First Show of the Year
There was no brushing off the rust for equestrian athlete Millie Vlasov as she began the 2021 show season with a successful weekend of showing at the Oliva Nova Mediterranean Equestrian Tour in Valencia, Spain.
Happy New Year and Congratulations to Millie, Peyton and Mila on being recognized!
CONGRATULATIONS!!!! to Peyton Wong, voted one of The Nassau Guardian's Top 10 Junior Female Athletes of the Year.
CONGRATULATIONS!!!! to Mila Sands, who finished out of the top 10 but received votes for special mention.
And finally, CONGRATULATIONS!!!! to Millie Vlasov, The Nassau Guardian's 2nd-ranked Senior Female Athlete of the Year. Millie was edged out of the top spot by only 1 vote!
Congratulations to Millie Vlasov: Ministry of Youth, Sports & Culture 2020 Sports Champions Awards Finalist – Vote Now!
Equestrian Bahamas is proud to announce that Millie Vlasov has made the list of Finalists for the Ministry of Youth, Sports & Culture 2020 Sports Champion Award!
Bahamians all over the world thrilled to hear our National Anthem playing for the first time ever in an international equestrian arena, after Millie's CSI 1* win aboard Beaumont M/V at St. Tropez earlier this year.
The nomination for the 2020 Sports Champion Award is a tremendous honour not only for Millie but also for Equestrian Sport in the The Bahamas. Please show your support for Millie and for Equestrian by casting your vote today!
To Vote:
Click on Photos
Scroll through to find Millie's photo
Like the photo …. share the news!
Congratulations to our Princeton Equestrian League Finalists 2020
ALEXIS NEYMOUR: Children's/Adult Medal 2'6" – 5th Place
SARA GOTTBERG: Children's/Adult Medal 3' – 5th Place
ALEXIS OSAZUWA & TRADE SECRET: Leapfrog Jumpers 2' – 8th Place
MILA SANDS: Children's/Adult Medal – 3rd Place; Low Children's Equitation 2'6" – 5th Place
STORM D'ARVILLE & VALENTINE: Leapfrog Jumpers 2' – 6th Place
KATHRYN GOULANDRIS: Children's/Adult Medal 3' – 7th Place
HANNAH D'AGUILAR: Modified Rider 2'3" – 5th Place
Wong Makes the Leap to Collegiate Equestrian Competition
Equestrian athlete Peyton Wong hasn't allowed COVID-19 or the Freshman blues to get in the way of pursuing her training.
The Queens College graduate began her freshman year at the University of Tampa this fall and will ride for the UTampa Equestrian Team under trainer Karey McGee. Wong is a Business major, currently studying International Business and Marketing.
Millie Vlasov and Beaumont M/V are pure gold in St. Tropez!
Congratulations to Anna Camille Vlasov and her horse Beaumont M/V on their victory this weekend in the CSI 1* 1.30m Grand Prix competition at the Jumping du Golfe de St. Tropez HUBSIDE Event in St. Tropez, France!
A victory at the CSI 1* Grand Prix level marks a significant milestone for Equestrian Sport in The Bahamas. The success of our riders abroad reflects not only the talent and dedication of our athletes, but also the foundational quality and technical relevance of our local instructional programs.
Equestrian Bahamas remains committed to supporting Bahamian riders at every level of the sport. Congratulations again to Millie…we send our best wishes to her and to all our Bahamian riders who are doing great things abroad!
Watch Millie's winning rounds
Read @ The Nassau Guardian…
View Gallery
Equestrian Bahamas teams up with IEA to create history
It has been a year of achievements for Equestrian Bahamas, and this past summer, the federation achieved another milestone by expanding its youth scholastic riding program to partner with the United States-based Interscholastic Equestrian Association (IEA), becoming the first international affiliate in IEA's history.
The show goes on for Bahamian riders abroad
Bahamian show jumpers abroad are seizing the opportunity to shine in the ring, as equestrian event organizers worldwide begin to establish a "new normal" for showground competition after months of event cancellations due to the coronavirus (Covid-19) pandemic. For equestrians Marcus Davis, who trains in Canada, and Anna Camille Vlasov, who is currently based in France, it's back to training and competing as usual.
Bahamas Interscholastic Equestrian League takes on a new look: Equestrian Bahamas and IEA forge partnership as Bahamas Joins IEA Zone 4
Equestrian Bahamas is proud to announce a partnership between the Bahamas Interscholastic Equestrian Association (BIEL) and the US-based Interscholastic Equestrian Association (IEA). As of the 2020-2021 show season, The Bahamas has been designated as Region 13 of Zone 4 of the IEA: the first international regional affiliate in that organization's history!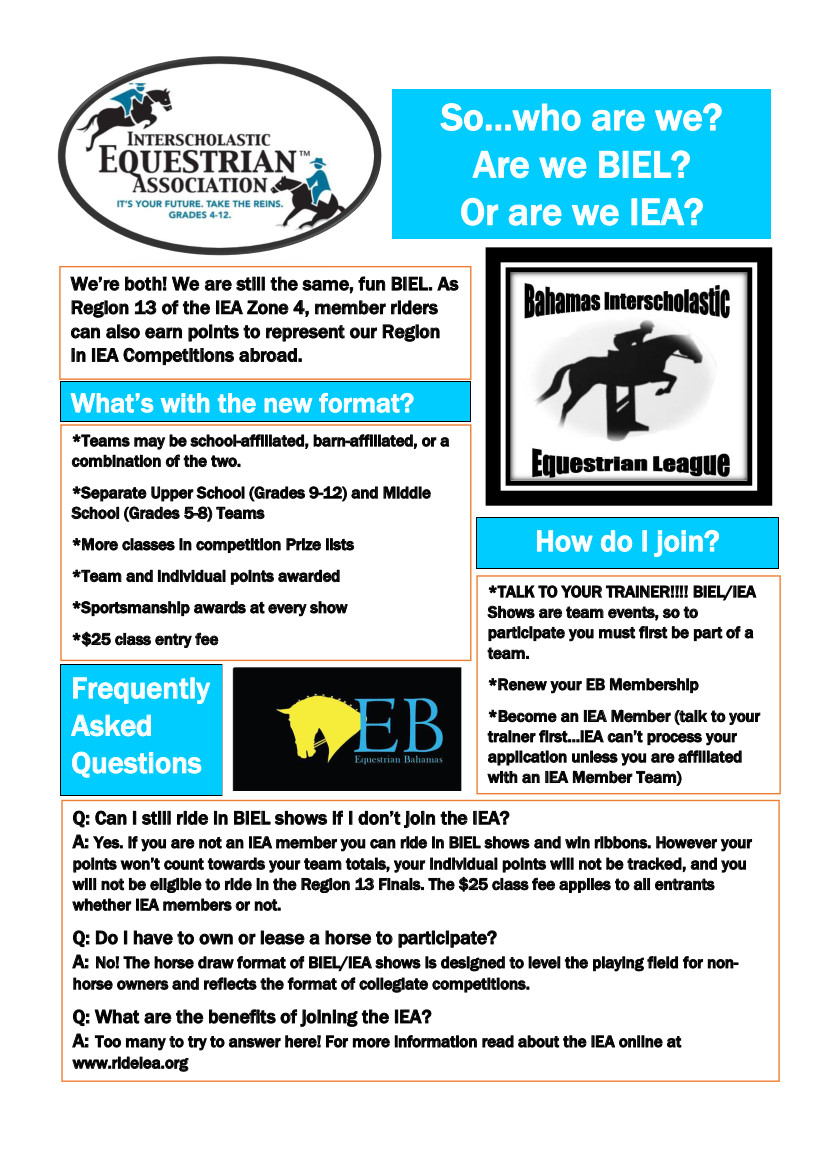 ---
Our Partners
---
About Us
EB Rider Certification
Are you ready?
• Explore the website
• Read the on-line study guide
• Find out testing dates
• Ask your trainer for more details
• more…
2020 – 2021 EB Rated Horse Show Dates*

| Date | Location | Discipline |
| --- | --- | --- |
| November 14-15, 2020 | Camperdown Equestrian Centre | tbd |
| December 5, 2020 | Mariposa Stables | tbd |
| January 23, 2021 | Mariposa Stables | tbd |
| February 6, 2021 | Camperdown Equestrian Centre | tbd |
| March 20-21, 2021 | Camperdown Equestrian Centre | tbd |
| April 24-25, 2021 | Camperdown Equestrian Centre | tbd |
| May 15, 2021 | Camperdown Equestrian Centre | tbd |
2020 – 2021 BIEL Horse Show Dates*

| Date | Location | Discipline |
| --- | --- | --- |
| October 3-4, 2020 | Show and Clinic, Mariposa Stables | tbd |
| December 6, 2020 | Mariposa Stables | tbd |
| January 24, 2021 | Mariposa Stables | tbd |
| February 7, 2021 | Camperdown Equestrian Centre | tbd |
*Dates subject to change