Welcome to Equestrian Bahamas
Join our community, as we support and encourage each other – learning, growing, and developing our sport through excellence! Whether you are a rider or parent, horse owner or trainer, sponsor or visitor, we hope you will find something of interest in our site.

Congratulations to Maya Tilberg
Congratulations to equestrian student- athlete Maya Tilberg. Maya is studying at the Honors College at the University of Missouri. A proud recipient of the Mark Twain Award, she is currently planning to major in Biomedical Sciences with a Pre-Med focus.
Davis Triumphs in Canadian Show Jumping Classic
Bahamian show jumper Marcus Davis wrapped up an intense June campaign of training and competition in the best way possible – standing alone atop the podium, at the Angelstone Headwaters Cup Tournament in Ontario, Canada!
Vlasov and Etos HBC are Superb in France
Equestrian athlete Millie Vlasov and Etos HBC shone in illustrious company at the Laiterie de Montaigu 1.40m Grand Prix Event at Bourg-en-Bresse, France, on Sunday, May 23. Vlasov placed 5th out of a field of 52 Grand Prix riders, which included competitors from Sweden, Ireland, Great Britain, Turkey, Spain, Mexico, Switzerland, Australia and France.
Vlasov took the lead in the competition early, attacking the challenging 1.40m course designed by French course designer Gregory Bodo with style and verve. She and Etos soared clear in the first round and posted an efficient jump off time of 43.53 seconds, making her the rider to beat and prompting the French announcer to declare the pair "superb!"
Ultimately the performance was strong enough to secure 5th place in the large field, with just 4 riders, including Brice Brassart (France) and Charlotte Mcauley (Sweden) able to beat Vlasov's and Etos' fast time. Vlasov was delighted and gave all the credit to Etos, declaring: "I'm so happy! He was amazing".
The high placement at the Bourg-en-Bresse competition at 1.40m marked the pair's highest achievement to date as they progress toward their goal of representing The Bahamas in Santiago, Chile, at the next Pan Am Games.
Pagliaro and Beau continue to train in all weather, even in the freezing rain last week in Georgia!
The FEI Endurance Young Rider World Championships are rapidly approaching. As the first ever to represent The Bahamas at this event, Reine Pagliaro and her mount Beautiful Knightmare (known as Beau) are training, refining, and doing all the research necessary to represent The Bahamas to the best of their ability. The competition will be held September 6-10 in Ermelo, The Netherlands.
Bahamas Interscholastic Equestrian League takes on a new look: Equestrian Bahamas and IEA forge partnership as Bahamas Joins IEA Zone 4
Equestrian Bahamas is proud to announce a partnership between the Bahamas Interscholastic Equestrian Association (BIEL) and the US-based Interscholastic Equestrian Association (IEA). As of the 2020-2021 show season, The Bahamas has been designated as Region 13 of Zone 4 of the IEA: the first international regional affiliate in that organization's history!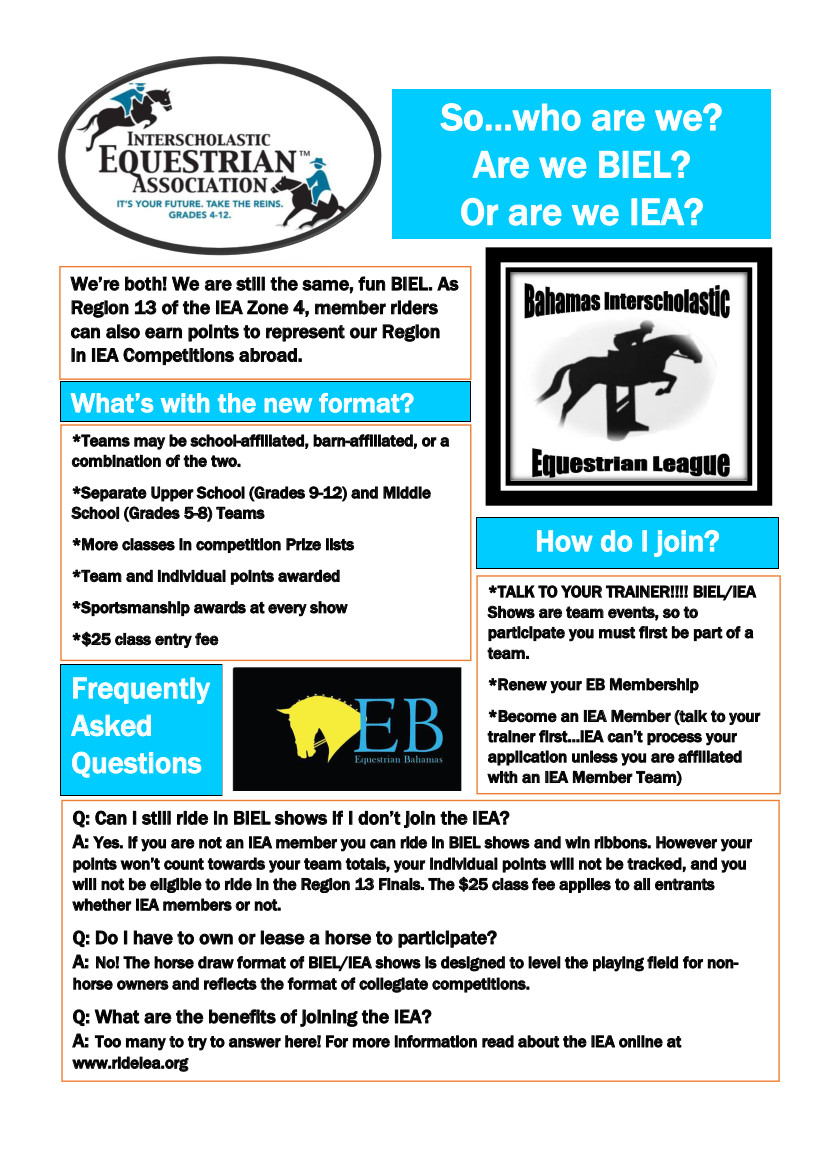 ---
Our Partners
---
About Us
EB Rider Certification
Are you ready?
• Explore the website
• Read the on-line study guide
• Find out testing dates
• Ask your trainer for more details
• more…
2020 – 2021 EB Rated Horse Show Dates*

| Date | Location | Discipline |
| --- | --- | --- |
| November 14-15, 2020 | Camperdown Equestrian Centre | tbd |
| December 5, 2020 | Mariposa Stables | tbd |
| January 23, 2021 | Mariposa Stables | tbd |
| February 6, 2021 | Camperdown Equestrian Centre | tbd |
| March 20-21, 2021 | Camperdown Equestrian Centre | tbd |
| April 24-25, 2021 | Camperdown Equestrian Centre | tbd |
| May 15, 2021 | Camperdown Equestrian Centre | tbd |
2020 – 2021 BIEL Horse Show Dates*

| Date | Location | Discipline |
| --- | --- | --- |
| October 3-4, 2020 | Show and Clinic, Mariposa Stables | tbd |
| December 6, 2020 | Mariposa Stables | tbd |
| January 24, 2021 | Mariposa Stables | tbd |
| February 7, 2021 | Camperdown Equestrian Centre | tbd |
*Dates subject to change