Welcome to Equestrian Bahamas
Join our community, as we support and encourage each other – learning, growing, and developing our sport through excellence! Whether you are a rider or parent, horse owner or trainer, sponsor or visitor, we hope you will find something of interest in our site.

Dear Members and Friends,
Welcome to the 2021-2022 show season! It's good to be back at the barn and back in the saddle.
Now is the time to join or renew your membership in Equestrian Bahamas.
EB membership opens vistas of opportunity, exposure and education for members at every level. Our status as a National Federation of the Fédération Équestre Internationale (FEI) and a Member Region of the US-based Interscholastic Equestrian Association affords our coaches and riders access to a wide range of educational opportunities, scholarships and technical development initiatives. Our engagement in international and local partnerships helps to make equestrian sport accessible to a broad spectrum of Bahamian youth.
We invite you to be a part of the many exciting events we have planned for this season. In particular we look forward to our first year of active partnership with the IEA, competing as Region 13 in Zone 4. Our BIEL/IEA show calendar has been enhanced and expanded and now offers interscholastic competition opportunities for riders from Grade 4 and up.
Please explore our updated website and talk to your trainer to learn more about the all the opportunities available. Remember to read our updated Covid-19 Competition Safety Guidelines and the EB Code of Ethics, both available under the Resources tab of our website. Updated Rule Books and Class Specifications and a full competition calendar are available under Horse Shows.
Membership payments may be made through your trainer (cheques should be made payable to Equestrian Bahamas). If paying online, please note the name of the EB member on whose behalf the payment is being made. Please direct any questions regarding membership payments to Mrs. Sabrina Wong at [email protected]
Thank you for your support. We look forward to a fantastic new year in equestrian sport!
Cathy Ramsingh-Pierre, President
CEC Annual Show a Rousing Success
Congratulations to the CEC Show Organizing Committee on successfully hosting the first Equitation/Jumper show of the year on November 13-14. Thanks to all riders, trainers, sponsors, volunteers and parents for their support and participation!
Brogdon Wins Big for RWU Equestrian
Bahamian collegiate rider Carisa Brogdon and the Roger Williams University Equestrian Team wrapped up the Fall season this past weekend at the University of Rhode Island Horse Show. Brogdon and the RWU Hawks compete in Zone 1, Region 1 of the Intercollegiate Horse Show Association (IHSA), placing second overall for three consecutive shows.
Back in the Saddle: CEC Sand Dollars and Mariposa Gold Drops are winners in first horse show of the year
Congratulations to the Camperdown Equestrian Centre Sand Dollar Varsity Team (Hannah D'Aguilar, Alexis Osazuwa, Eve McLeod and Arielle Arthur) and the Mariposa Gold Drops Futures Team (Katarina Coello, Kaia Kull, Emma Johnston and Anouk Formige) who emerged as Champions in the first BIEL/IEA show hosted by the LCIS Dragons at Mariposa Stables on Saturday, October 30.
Competition was stiff, with the CEC Sand Dollar Varsity and CEC Blue Marlins Varsity teams finishing tied for first place! The tie breaker was decided by points awarded in the over fences classes.
Peyton Wong finishes in the ribbons in debut Intercollegiate Equestrian Competition
The collegiate equestrian competition season is off to a promising start for Peyton Wong. The University of Tampa sophomore made her debut last weekend in the first show of the season for Zone 5, Region 5 of the Intercollegiate Horse Show Association (IHSA). Wong made an immediate impression on the judges, competing in four different classes in the Open Division and winning a ribbon in each against stiff competition.
Pagliaro Finishes Strong at the Junior World Endurance Championships
Last week marked an exciting milestone for Equestrian sport in The Bahamas, as 17-year-old Reine Pagliaro's successful ride in the FEI World Endurance Championship for Young Riders and Juniors marked the first time ever that The Bahamas has competed in an Equestrian event at the World Championship level.
74 riders from 20 countries vied for top honours over a technically demanding 120km course which took riders through open fields, wooded sections, and hilly terrain in Ermelo, the Netherlands. The course was so demanding that over 45% of the competitors failed to finish. However, Pagliaro rode a strategic and determined race in partnership with her horse, the 11-year old grey Arabian gelding Beautiful Knightmare (affectionately known as Beau). The pair finished the course in 38th place, clocking a final time of 8:09:35 at an average speed of 14.706 km/hr.
Congratulations to Maya Tilberg
Congratulations to equestrian student- athlete Maya Tilberg. Maya is studying at the Honors College at the University of Missouri. A proud recipient of the Mark Twain Award, she is currently planning to major in Biomedical Sciences with a Pre-Med focus.
Davis Triumphs in Canadian Show Jumping Classic
Bahamian show jumper Marcus Davis wrapped up an intense June campaign of training and competition in the best way possible – standing alone atop the podium, at the Angelstone Headwaters Cup Tournament in Ontario, Canada!
Vlasov and Etos HBC are Superb in France
Equestrian athlete Millie Vlasov and Etos HBC shone in illustrious company at the Laiterie de Montaigu 1.40m Grand Prix Event at Bourg-en-Bresse, France, on Sunday, May 23. Vlasov placed 5th out of a field of 52 Grand Prix riders, which included competitors from Sweden, Ireland, Great Britain, Turkey, Spain, Mexico, Switzerland, Australia and France.
Vlasov took the lead in the competition early, attacking the challenging 1.40m course designed by French course designer Gregory Bodo with style and verve. She and Etos soared clear in the first round and posted an efficient jump off time of 43.53 seconds, making her the rider to beat and prompting the French announcer to declare the pair "superb!"
Ultimately the performance was strong enough to secure 5th place in the large field, with just 4 riders, including Brice Brassart (France) and Charlotte Mcauley (Sweden) able to beat Vlasov's and Etos' fast time. Vlasov was delighted and gave all the credit to Etos, declaring: "I'm so happy! He was amazing".
The high placement at the Bourg-en-Bresse competition at 1.40m marked the pair's highest achievement to date as they progress toward their goal of representing The Bahamas in Santiago, Chile, at the next Pan Am Games.
Bahamas Interscholastic Equestrian League takes on a new look: Equestrian Bahamas and IEA forge partnership as Bahamas Joins IEA Zone 4
Equestrian Bahamas is proud to announce a partnership between the Bahamas Interscholastic Equestrian Association (BIEL) and the US-based Interscholastic Equestrian Association (IEA). As of the 2020-2021 show season, The Bahamas has been designated as Region 13 of Zone 4 of the IEA: the first international regional affiliate in that organization's history!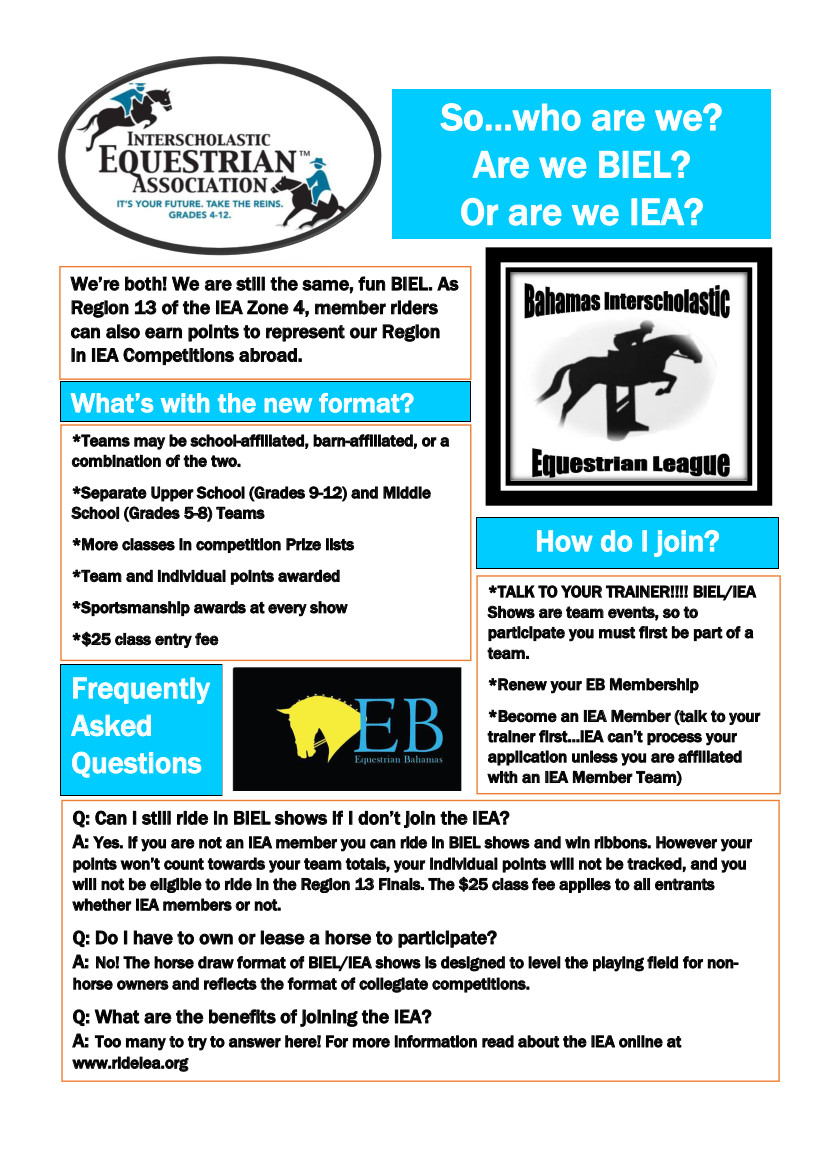 ---
Our Partners
---
About Us
EB Rider Certification
Are you ready?
• Explore the website
• Read the on-line study guide
• Find out testing dates
• Ask your trainer for more details
• more…